Subject: Official Bio Sheet Wed Dec 24, 2008 8:02 pm
--------------------------------------------------------------------------------
;;Out-Of-Character;;TAZ
-;Habbo Name:TAZ756
-;
-;Sex:MALE
;;In-Character;;Kazuke
-;Character's Name:Kazuke
-;
-;Race:Dragon
-;
-;Class:[W]
-;
-;Sex:Male
-;
-;Age:17
-;
-;Height:6,0
-;
-;Weight:
-;
-;Eye Color:
-;
-;Hair Color:Black with white stripe
-;
-;Physical Description:Muscular
-;
-;Personality:Angry
-;
-;Picture(not necessary):
-;
-;Weapon:TOMBSTONE BLADE
-;
-;Weapon Picture:
-;
-;Mount:none
-;
-;Mount Picture:
-;
-;Character History: Kazuke was born in a family of half demon dragons.He too was once a half demon.Then one day he met a powerful wizard who granted him the wish of being a full demon.
But along with that Kazuke would have to do his bidding .So Kazuke sighed and agreed.One day the evil wizard ordered him to kill his family of half demons.Without thinking Kazuke went on a killing spree it wasn't untill his mother was the only one left tht he realized it was wrong but his mother disagreed she told him that half demons wher a disgrace and wanted to die.So doing wat his mother wanted he killed her.Then he figured he was powerful enouf to take out the wizard.So flame after flame he destroyed the wizard but the wizard cursed him .He sayed that as soon as he becomes half befriend anyone he would end up killing them .Thats why kazukeis always rude and ilmannered.So off on his life journey to find a wizard to undo the spell becuz he found out tht he had an unborn brother egg at the time he killed his family and he would do anything kill anyone to find his brother!!
Regular With Tombstone Blade: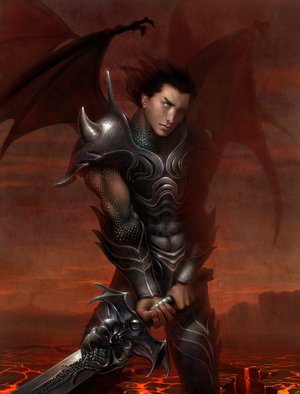 Demon Form: