-;Habbo Name: Kalaksuki
-;
-;Sex: Male
;;In-Character;;
-;Character's Name: Maelo Valentino (He changed his name, due to many people knowing it)
New Name: Beethoven Meigrand
-;
-;Race Youkai (Wolf)
-;
-;Class: Assassin
-;
-;Sex: Male
-;
-;Age: 16
-;
-;Height: 5'7"
-;
-;Weight: 130 lbs
-;
-;Eye Color: Amber (Change blue in killing instinct)
-;
-;Hair Color: Black
-;
-;Ethnicity: British, British accent.
-;
-;Physical Description: A slim figure, but possessing a bit of strength. He has ultimate accuracy which makes him a trained and lethal killer. His has hands are gloved, and his scarf covers much of his mouth. Some hair covers one of his eyes. His bow is made of metal, but is able to stretch to increase range. He has a small knife in the back of his belt, just in case of a close combat attack. He prefers to attack in the shadows. A leather collar is strapped to his neck, a short chain still attached to it. His black leather robes conceal powdered poisons which, in contact kill it's victim depending on the type.
-;
-;Personality: He is serious and have a bit of a temper. His motto "I live in the shadows, kill in the shadows, and survive in the shadows. That's all you need to know."
-; Picture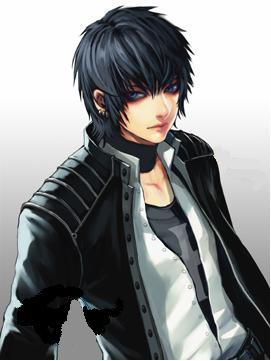 -;Weapon
-;Wolf Form Description: Black and red, and able to hide in the shadows. His bite is strong than most wolves, and like his human form, able to flicker. A dark aura rises from his feet.